It has been a very busy week of rescues at Araucaria Sanctuary. We have welcomed quite a few new joeys into our family. Sadly, a couple of them were too small or injured to make it, but we have several new little personalities in our mob…
Saturn is a little Red-necked wallaby who came into care on 13th July from Cedar Point after being rescued by some other WIRES carers, Liz and Fred. At 1.2kg Saturn is a little bundle of attitude and is already hopping around the infants enclosure and introducing herself to the other joeys.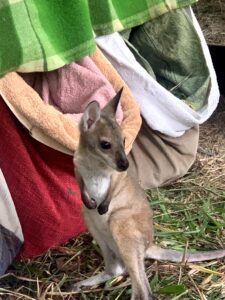 CocoBear is a Red-necked Pademelon who was rescued from Repentance Creek by our Macropod Coordinator Sue. Weighing only 270g CocoBear doesn't take up much room at all in the cot and is sharing a hanging bag with Citrus!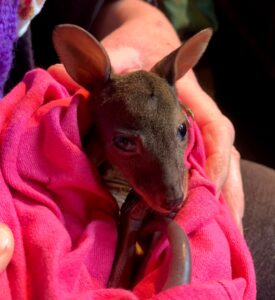 Citrus is a VERY special joey as he is the first to come into care from our own Sanctuary. For an unknown reason he had fallen from his mum's pouch but was too young to get back in. Fortunately for him, Linda spotted him on the ground under the mandarin trees. Don tried several times to reunite him with his mum – one of our own grown-up orphans – but she wasn't interested. So Citrus is now in care with his grandparents!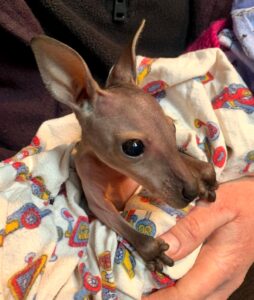 Womble is a bit of an enigma. She is a 1.2kg Red-necked Pademelon and was found at Nimbin in very poor condition – dehydrated, with lots of parasites and strangely droopy ears! We aren't sure what happened to her, but we think perhaps she might have been picked up by a raptor and dropped, as she has some injuries to her flanks. After intensive care she is looking better each day and we hope that she will make a full recovery.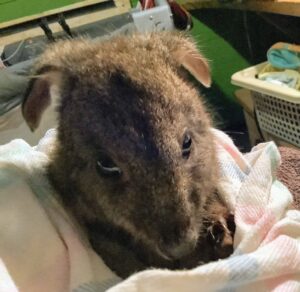 Alpha Centauri is our most recent arrival. He was orphaned after his mum was fatally attacked by a dog. Thankfully he was uninjured. At 2.4kg he is a big boy, but has settled in wonderfully and is now snuggling up in a pouch with Luna.