It is so long since we have posted an update on the "kids in care". So here is the current run-down and some photos where we have managed to snap them. Thanks to our various helpers for pics too.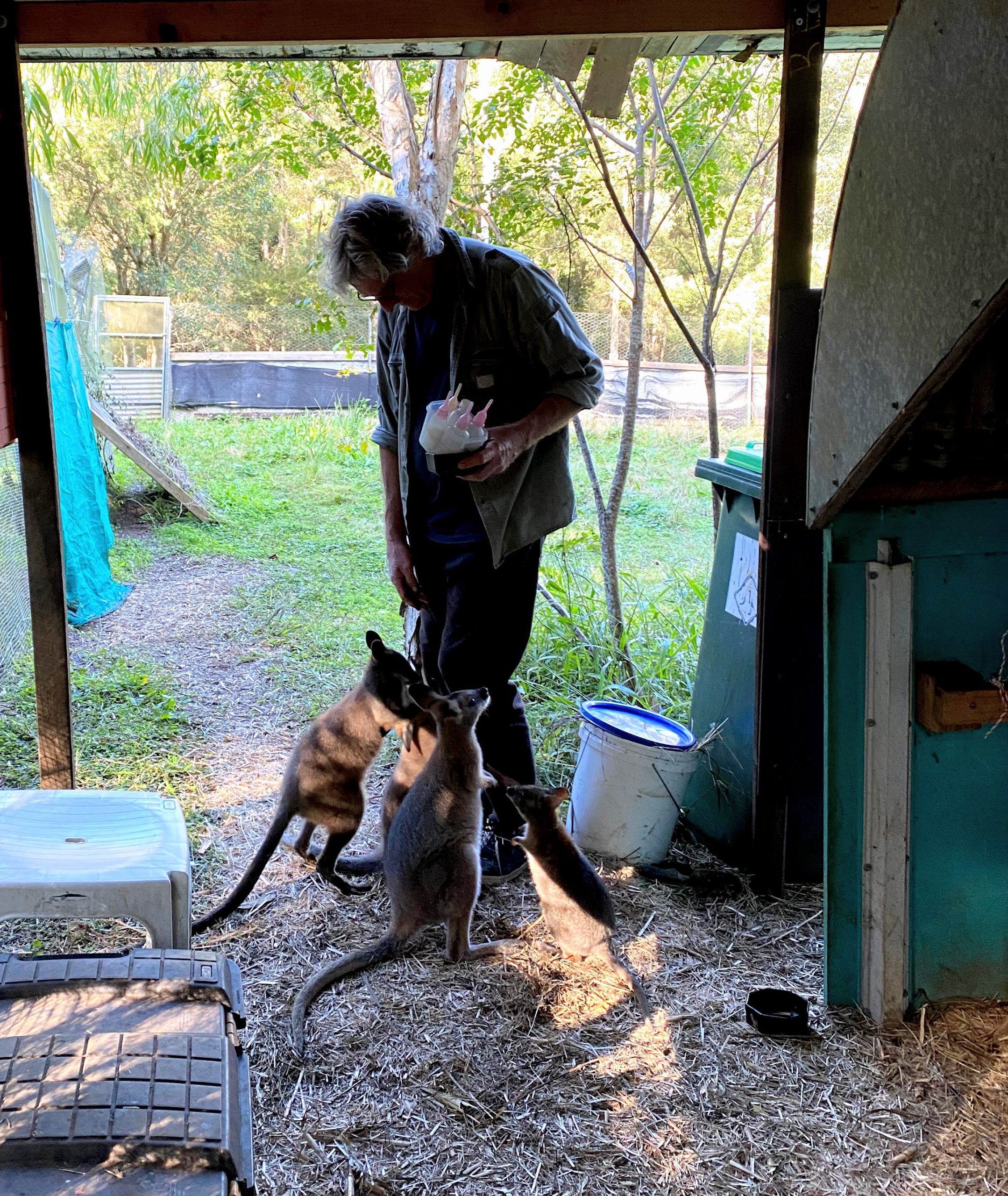 Treacle, Emerald and Solstice (the big High School kids) are now on day release and doing really well. They come back in at night, to be safe, and are up bright and early waiting at the gate for a warm drink and outside time each day.
Miffy, Juna, Bunyip, Pegasus and Evie 1 have been in the high school yard for a while now. Everyone except Miffy are still gobbling bottles and they all love sitting in the morning sun.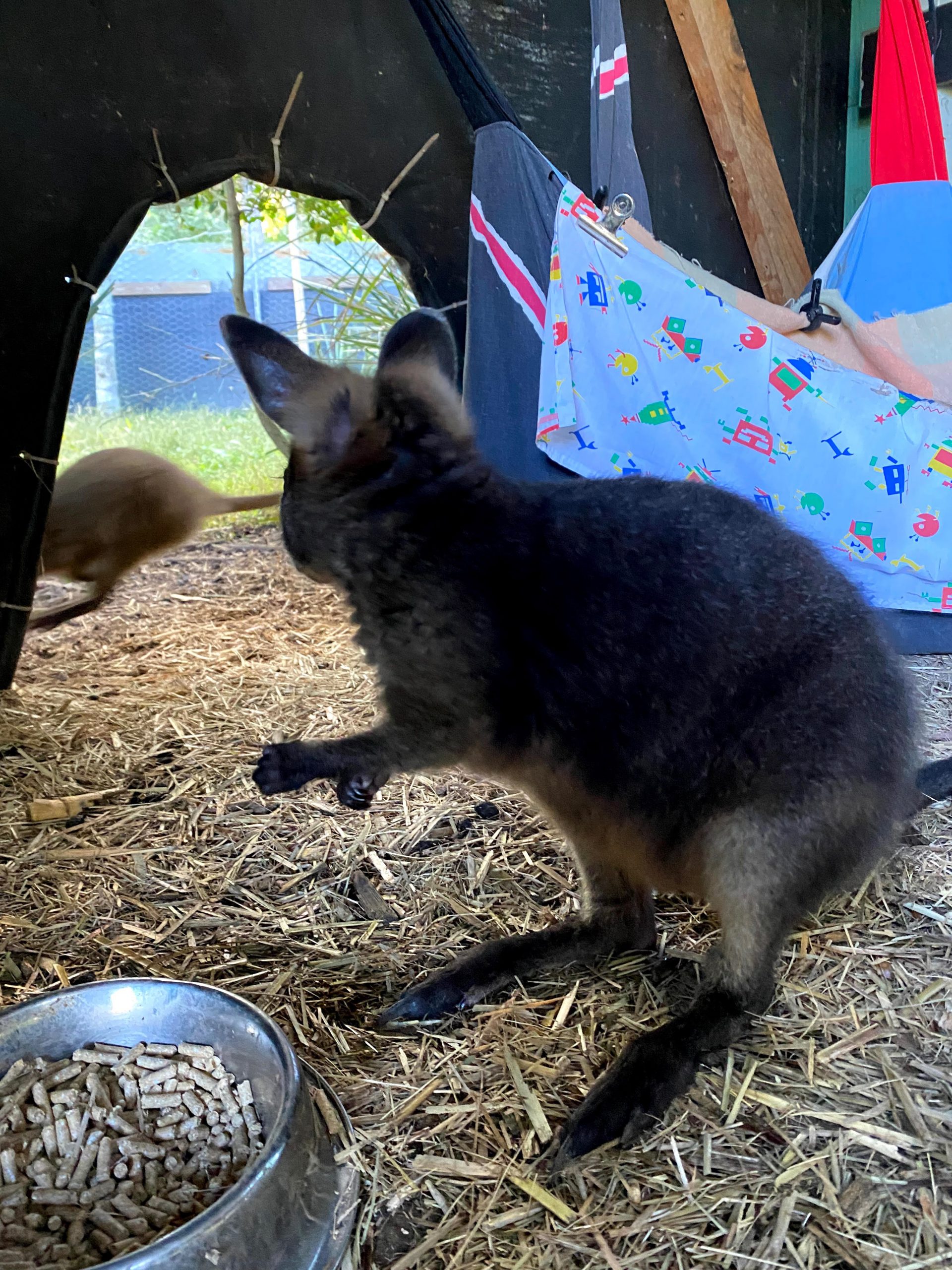 Melaleuca, Puppet, Wally, Evie 2 and Booyong (Boo) had an exciting week, with the gate between primary and high school opening up so they have more room to run and soak up the winter sun.
Hawk, Pecan, Rosemary, Tumeric (pictured in the page banner above) are four of our Infants gang at the moment. Hawk and Pecan are the big kids on the block, and don't spend much time in their hammock. Rosemary and Tumeric ("the girls") are besties, and although they love sitting in the sun in the mornings, they also like snuggling up together at night.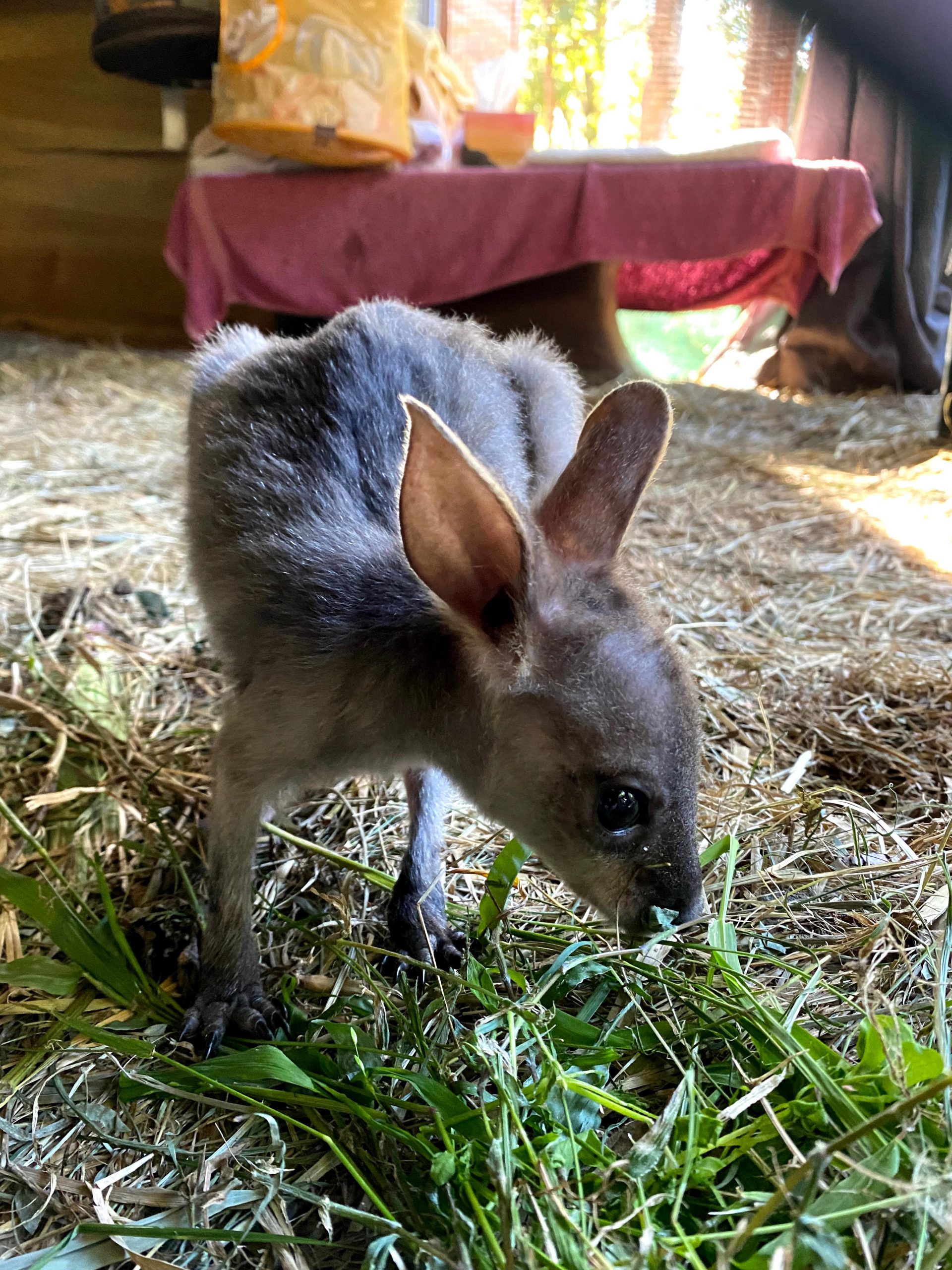 Sparrow is a strange little Swampy – we will never know what happened to her before she came into care, but she is looking better day by day. Her coat (almost bald on intake) is thickening up. She eats like a horse and has a chubby belly to match.
Mo is the only little Pademelon in Infants at the moment.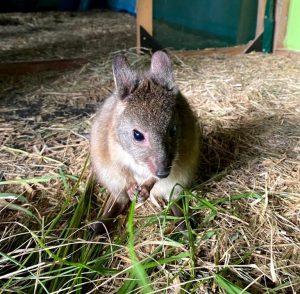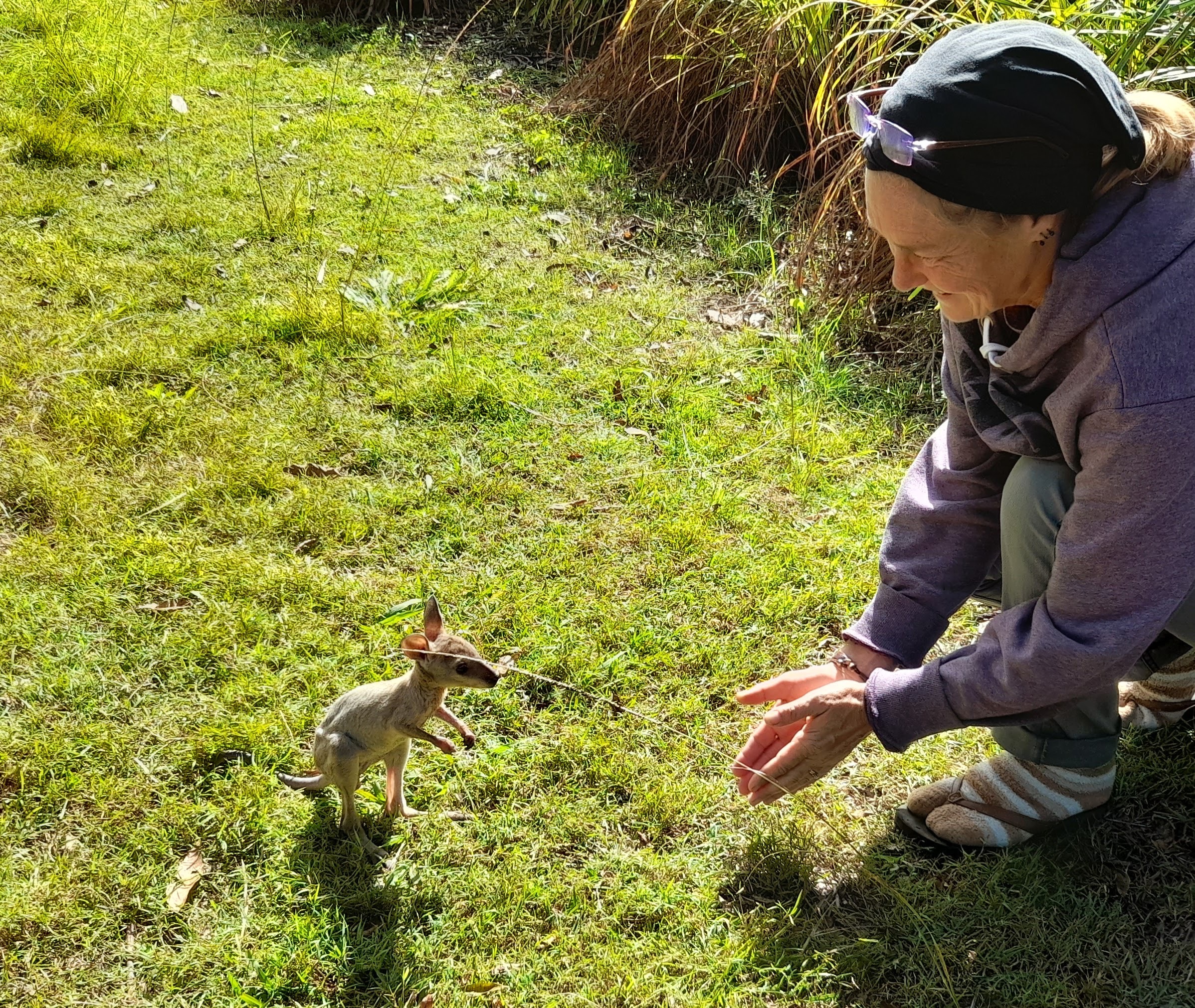 Oh…. and remember little Pitter Patter? He is now full time in Infants too, although mostly in the cot and still enjoying an electric blanket at night and on cold days. Every day, though, he goes out for time in the sun, AND last week he started having his first small wobbly stands. Within a week he has strengthened those legs and is now starting to take a few hops. A big achievement for a little guy who came in as a pinky with eyes just opened, and has had lots of hurdles to cross getting this far.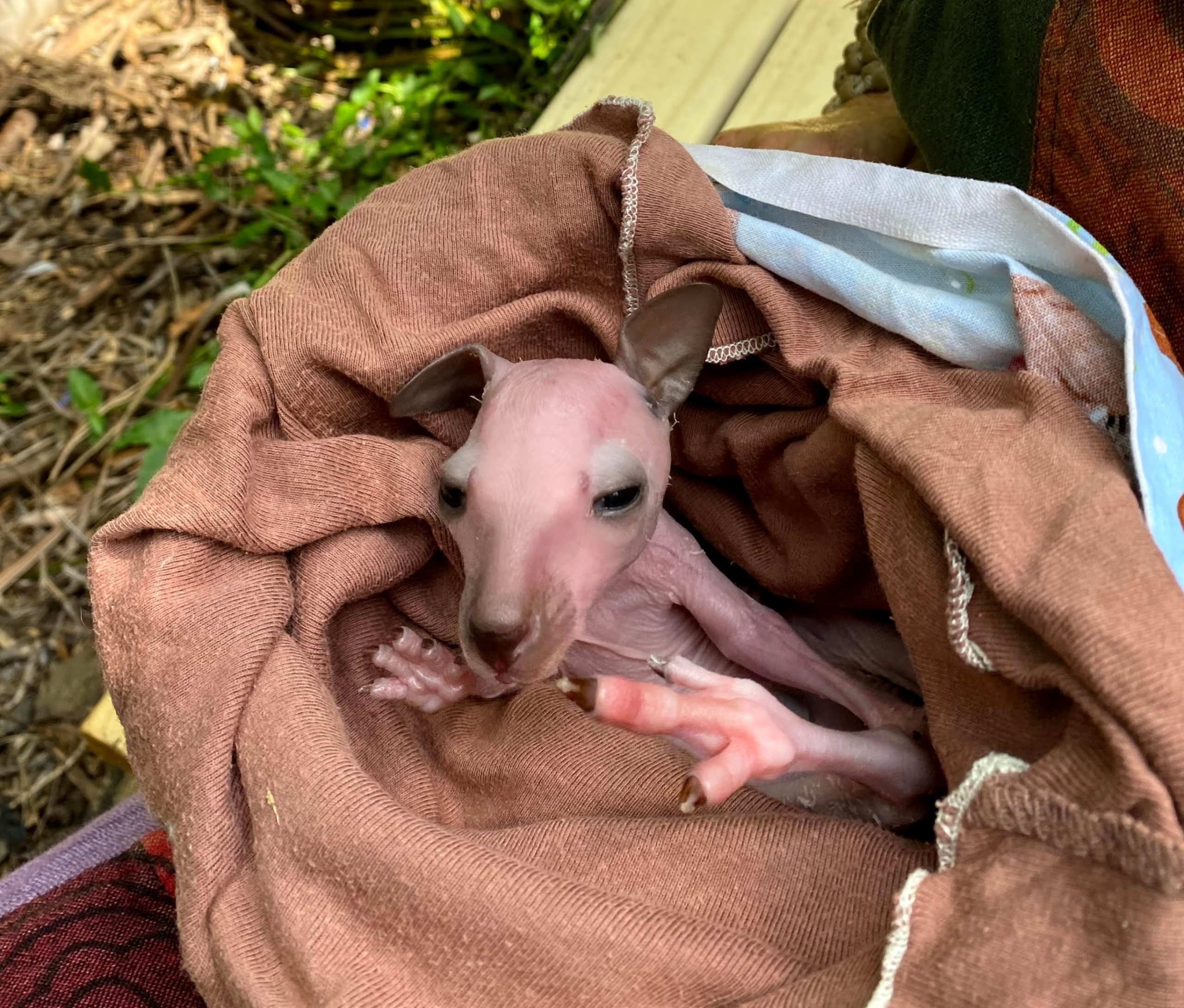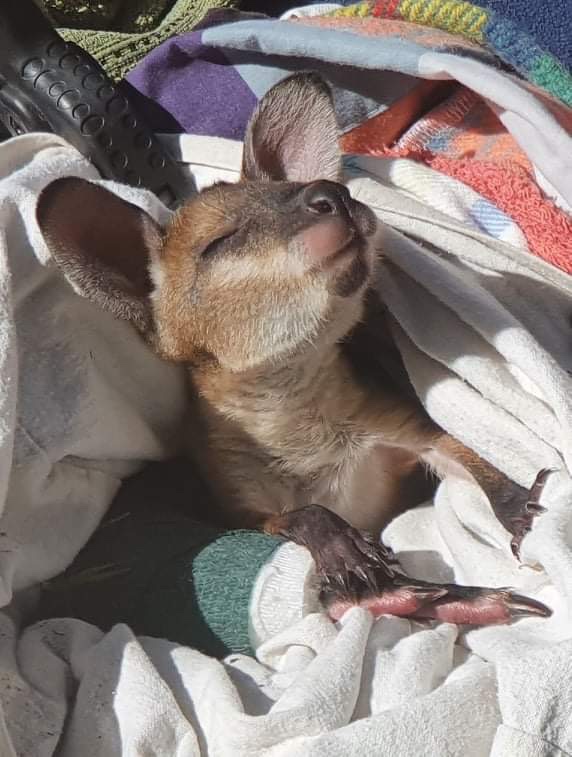 We also have a new girl in care – Thyme. She is being cared for by Romy. Unfortunately both her legs were injured when she was orphaned and one has a break. Thanks to the generous support from Dr Megan, at Vitality Vet at Bangalow she has had a cast on her leg and we are hoping it will improve with time.
(Photo: Thyme soaking up the sun… photo taken by Kat)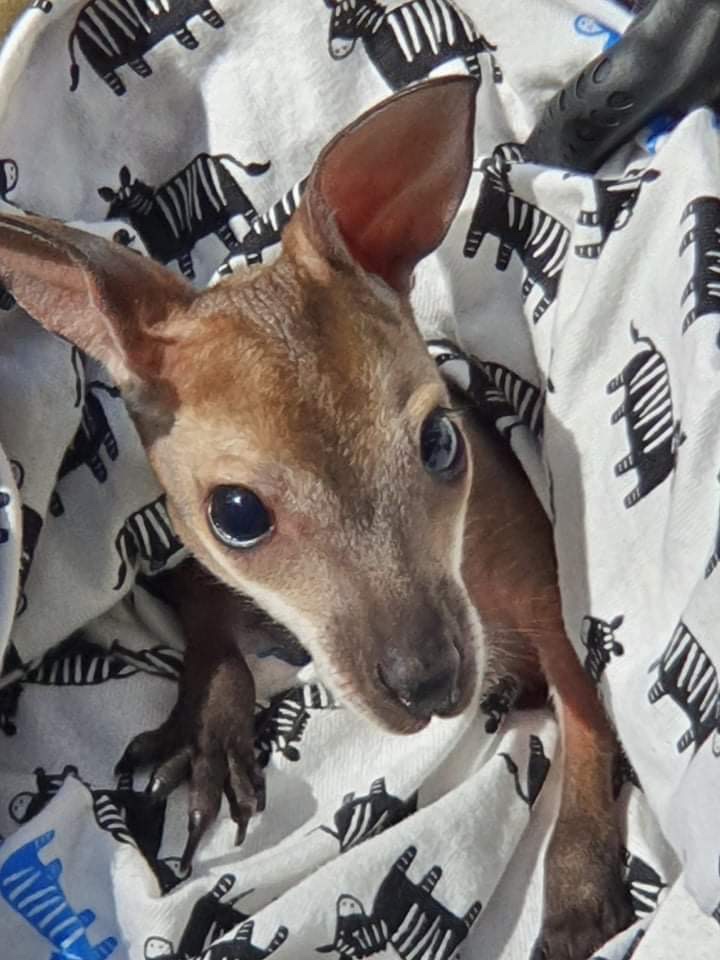 Also in care with Romy is little Pigeon, who has been with us since the beginning of May. She came in as a little pinky but is now starting to be very furry. She is growing up fast!
(Photo by Kat…. Pigeon showing how furry she now is!)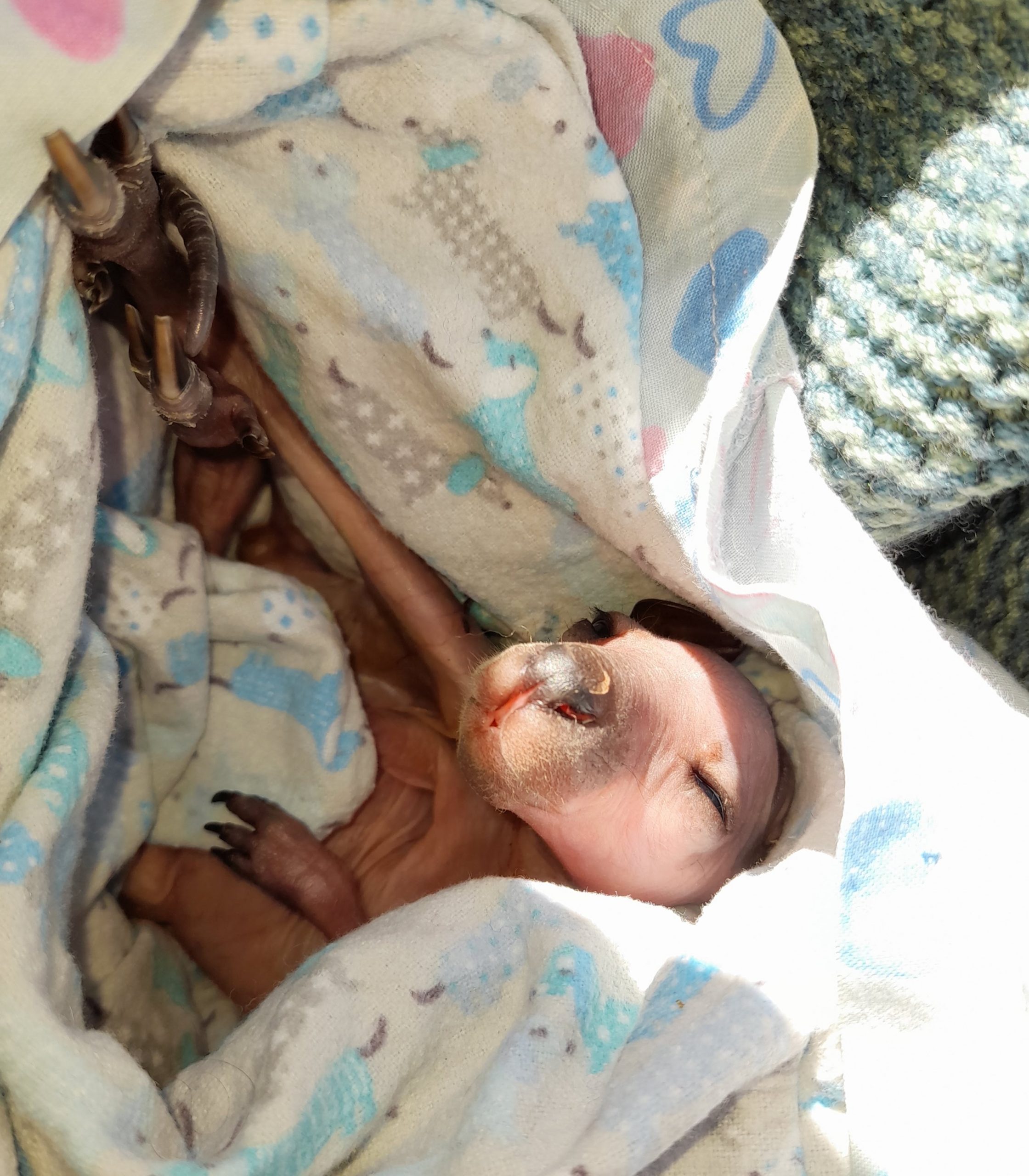 Then we have the youngest ones… Little Pea came into care on 4th May with his eyes closed and opened them 7 days late. He is doing so well and is starting to become velvet. Now he isn't so small we have decided to rename him – so now we have a little Tiger!
And our youngest little joey – Lion came into care on 29th May – eyes closed but well developed. He is still very young and touch and go, but yesterday he started to open his eyes and today they are half-open slits. We are doing our best to make sure Lion has a good chance at making it.
So, things are busy, but everyone is doing well and is happy and (mostly) healthy. And we are very excited to have some new helpers starting with us… but more on that in a future post. In the mean time… here are some more photos…