It has been another busy week, with more arrivals. Everyone is settling in nicely in the preschool enclosure. 
Venus is a big girl – 2.3kg. Often older joeys take quite a while to get used to humans and being in care, but Venus settled into her new pouch immediately and loves her bottles. A big thank you to Allira and Jeanette who were involved with her rescue … and to Ben for his help with transport. Venus will move to the Primary yard after she has well and truly settled where she will join Saturn, Luna, Cosmo and Alpha Centauri.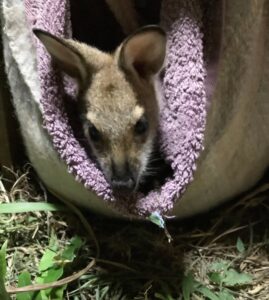 Lychee is a little Red-necked wallaby who was picked up from Lismore Central vet. She is closer in size to Citrus and Tangerine so will be part of the fruity gang!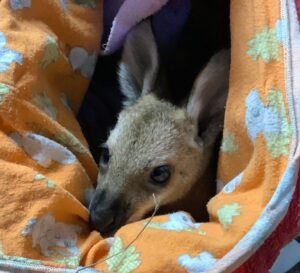 Skittles is our smallest and youngest in care. He is a little red-necked pademelon – 430g and just finely furred. Although he is a bit smaller he quickly made friends with Gummi Bear…. plus when you are this small it is great to snuggle into a pouch together.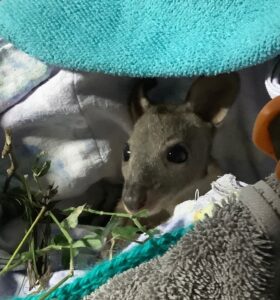 Another little pademelon, Jaffa, was in care a few days this week too. He had been away from his mum for quite some time and was very thin and weak. Sadly he didn't make it.