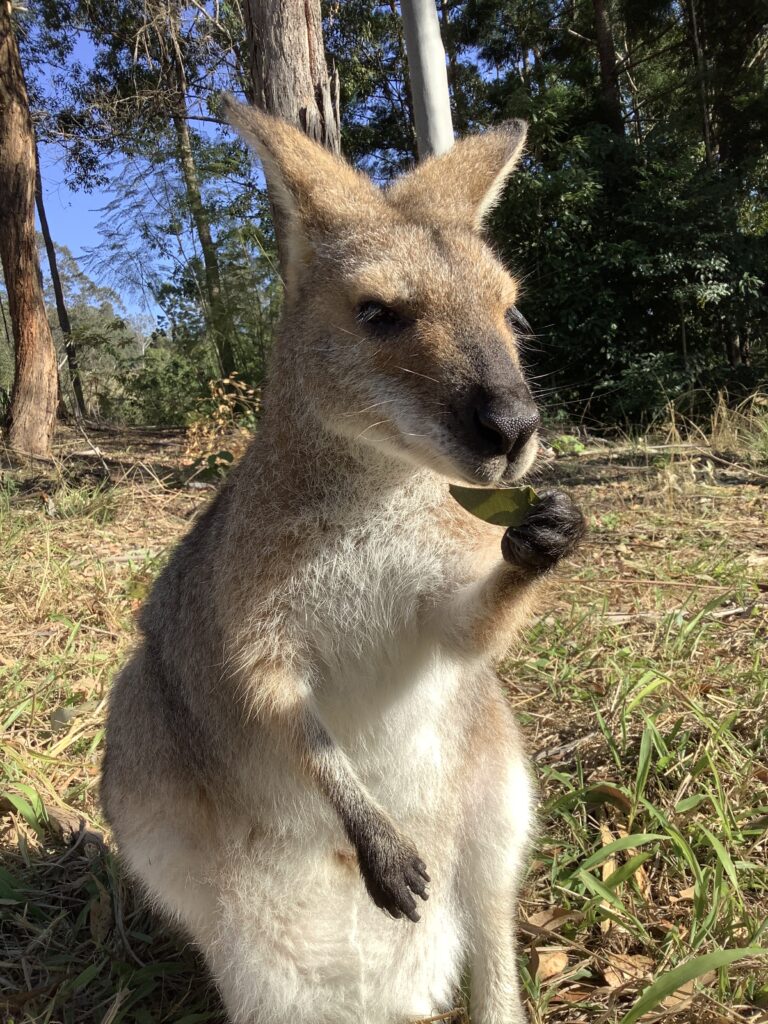 Cedar is a pretty special wallaby for us here at Araucaria Sanctuary. Cedar came to us from Cedar Point in April 2015 as a little velvet joey. Her mum had been hit by a car and was VERY smelly and bloated and little Cedar was covered in poo and stank. The first thing we did was give her a bath!
Cedar was a perfect little joey, but in mid June 2015 she had a terrible accident. When hopping in the yard Renata accidentally trod on her foot. The crunch was horrible, and it was clear that her foot was broken. We did our best to keep her comfortable overnight and rushed her to the vet the next morning. The xrays were concerning and our wonderful vet, Toni, was clearly skeptical about her prognosis. But we were so upset and desperate to try and save her so Cedar was bandaged up. After a month "in plaster", mostly pouch bound, Cedar's leg was remarkably healed! Her other leg, however, had swollen and took some further weeks to heal.
Cedar went on to be released in December 2015. Given her time in intensive care, she was clearly very attached to us and has, since then, been a resident wallaby; wild but residing close to our house.
We have watched Cedar raise many joeys now – one each year since her release! Sadly, two (Sapling and Seedling) didn't survive and were taken by pythons. Last year's joey, Pepper, is still by Cedar's side for much of the day… but to our great delight, Cedar's 2020 joey has just started popping its head out of the pouch!
A big welcome to the world to little Cyprus… just one of the many grand-joeys enjoying the spring warmth at Araucaria.